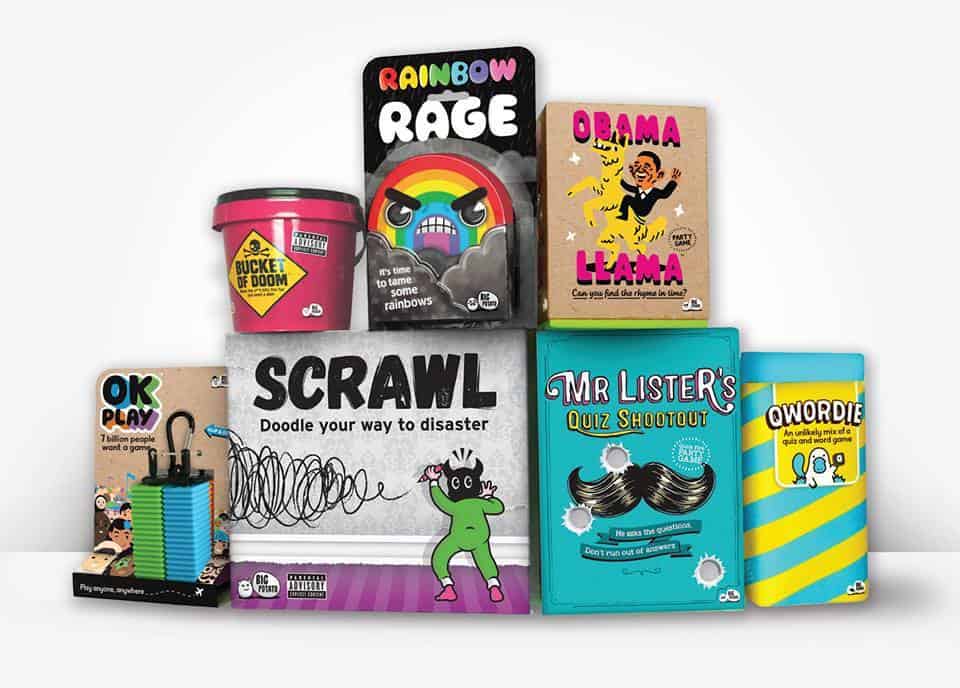 Welcome to our very first blog post here at Rogue Games, where we are proudly introducing our new range of Big Potato board games and games to play on zoom!
With a focus on light-weight family games, trivia games and party games, Big Potato Games have been taking the nation by storm and we are very proud to offer them with our amazing discounts. The board games available throughout this range are suitable for a variety of ages and goes as young as 6 years+ so nobody will feel left out.
It is well known that everyone could do with some cheering up in these unpredictable times. We honestly believe getting your hands-on award-winning board games is the perfect way to bring your family together and lift the spirits. Escape your worries, even if just for an hour, and spend quality time with your loved ones by playing a board game that can provide laughs and cheer for all.
In this blog we will be presenting you a few of our many Big Potato board games that are ideal to not only just bring the family together, but also to play on Zoom with friends. So, look no further and enjoy our brand-new launch!
You can purchase this range and more on our website with discounted prices of more than 20% of RRP, with next day delivery available for all.
Games to Play on Zoom!
Although we have a plan to exit lockdown, we still have a few more months of staying at home to get through. So, with all this free time at home, why not spend it with some exciting and hilarious games to play on Zoom to make lockdown a breeze!
Play Zoom games with your friends online with these top recommendations:
Weird Things Humans Search For
The player who owns the game can become the ultimate 'Search Master' and have control of the questions. Everyone else aged 14 and over just needs a simple pen and paper to participate in guessing our very questionable internet searches.
Weird Things Humans Search For also comes with a mini version that can be found on our website. The Weird Things Humans Search For Mini can be played as an expansion pack to the original game, or completely on its own!
Colourbrain
Big Potato have released multiple versions of Colourbrain, and they have done so once again with a game to play on zoom.
The owner of the game will be the designated 'Question Master' and will have complete control over the game. Each player will require only a pen and paper. Split one page of paper into 12 boxes and label them with the following colours: Yellow, Red, Blue, Green, Purple, Orange, Pink, Brown, Grey, White & Black. These are now your colour cards!
For ages 14 and over.
Mr. Lister's Quiz Shootout
This quick-fire question game Mr Lister's Quiz Shootout is one of the most perfect games to play on Zoom!
The owner of the game will become the famous 'Mr. Lister' and take control while holding their moustache. Put the players into two teams and allow them 30 seconds to discuss their answers before secretly messaging the answer to Mr. Lister. The first team to successfully win five points are the winners!
For ages 14 and over.
Obama Llama 2 Mini
Obama Llama 2 Mini is a guessing game that will put your skills to the test.
This is a great game to play on Zoom as the more players you can have, the better!
Requiring 3 or more players aged 14 and over, compete to find the most rhyming pairs. Split into two teams and play the game virtually by sending personal images of the cards to the correct players. Just download a timer on your phone from either the Apple or Google Play Store.
Video Chat Programs to Play Board Games
Play the games listed above using the video chat programs listed below:
Zoom
This video-calling software allows for huge amounts of people to use one video call at the same time! Playing Zoom games is easy as the program is very user-friendly. However, keep in mind that the free version of Zoom will only last 40 minutes per call. Our top tip is when you sign up for a new account, your first call is unlimited, so if you have the patience you can keep making new accounts. Available to download on your web browser or mobile device with the Apple and Google Play Store.
Discord
This is a completely free platform designed for instant messaging, video calls, voice calls and text with an age restriction of 12+. Originally made for gaming purposes only, Discord has soon grown to suit all video-calling needs. The only con is that it may be more complicated to get your head around (but well worth it). Available to download on your web browser or mobile device using the Apple and Google Play Store.
Facetime
Most people are familiar with the likes of Facetime, making it quick and easy for anyone who owns an apple product. However, if you have more than four friends you want to play with Facetime is not the one for you. Available on most Apple products.
Google Hangouts
Requiring you have a Gmail account; you can send out invites to up to 10 people for free. There is also an extra feature including GIFs, stickers and emojis. Available to download on your web browser or mobile device using the Apple and Google Play Store.
WhatsApp
This is another platform that most people are familiar with. While only 4 people can be added to one call, WhatsApp is simple and easy to use. Available to download on mobile devices from the Apple and Google Play Store.
Top Games to Play in Lockdown!
If you are living with the rest of your family throughout lockdown, any of the games throughout this range will be ideal for you!
Don't Get Got
A game like no other! Don't Get Got can be played absolutely anywhere and can last days, weeks or even months. Gather your family together for the brilliant party game that comes with incredibly simple rules.
Get together with 2-8 players aged 14 and over and receive six secret missions each to trick your fellow players into doing something odd.
We recommend you choose the time to complete your missions wisely. If the other players figure out they are being tricked, you have failed your mission. For example, one mission involves you getting another player to high-five you twice in one day. The first player to win three of their secret missions becomes the sneaky winner.
OK Play
If you are looking for a game that is simpler and easier to play, OK Play is the the one! This portable game is ideal for travel and provides enough tiles for up to 4 players. On the 29th of March England's lockdown rules will enable us to meet in our group of 6 outside. Making this game perfect to play with your friends as it is easily portable and entirely waterproof!
Recommended for children aged 8 years and above, though this is one all the family can join in on, you will compete against each other to get five of your tiles in a row. Like the famous Connect 4, tiles are placed either vertically, horizontally, or diagonally.
The central base for the colourful tiles has a karabiner style key ring to ensure this game is portable and can easily be clipped onto your bag. The plastic tiles are waterproof and easily washable. This means you can play this game anywhere you wish whether that is the beach, local park, or garden.
Muffin Time
The perfect game if you are looking for a good laugh! Muffin Time proudly introduces you to Desmond the Moon Bear, Mine Turtle, Skateboard Cow, the Kid Who Likes Trains and obviously Mr Muffin himself. They have left the screen to take part in your game night!
If you are familiar with asdfmovie, created by 'Tom Ska', then the characters that appear throughout this game may look familiar. For those interested, we have inserted the video where TomSka introduces Muffin Time below.
In this card game for 2-4 Players, be sure to expect some hilarious sketches. Though be warned, some include dark humor and therefore this game is only for players aged 13 years and above. Muffin Time is an extremely unpredictable game, with only the cards deciding your fate, absolutely anyone could be the winner.
Blockbuster
Attention all movie lovers! We are almost certain that everyone misses Blockbuster, so we are more than happy to announce that it has returned for good in the form of a board game!
In the Blockbuster Game players aged 12 and over can now take part in the head-to-head movie buzzer battle. The winner of this battle will then keep three or more friends entertained while you describe your movie card to the rest of the team by using either a word, a quote, or acting it out.
Dino Dump
One for the kids because they need entertaining too! Big Potato have made sure to provide 2-4 players aged 6 years and over with a dinosaur-themed card game with a gruesome ending.
Ideal for families with children, Dino Dump follows similar rules to UNO with the use of power cards to sabotage other players.
Make sure to play your cards right, because the last player standing will be awarded with a foul-smelling scratch and sniff sticker to wear with pride throughout the next round.
Lasting around 10 minutes per round, it is certain to keep your kids entertained!
Top of the Pops
The TV sensation has made its long-awaited return and is here to stay. Test your musical skills as you battle against your friends in the ultimate throwback game that features 8 genres of music ranging from the 60's to today!
To play the Top of the Pops game gather in 2 teams of 4-12 players and race to act, describe and kazoo all-time chart-topping artists and songs!
Recommended for ages 14 and above.
The Chameleon
Become a detective in the Chameleon Board game as one player is hiding a big secret.
For 3-8 players over the age of 14, participate in this sneaky game by guessing who you think the chameleon is.
Simply roll the dice and reveal the word you most associate with. The chameleon will not know this word and will have to play smart before they are caught out!
Weird Things Humans Search for can easily be played on Zoom with three or more of your friends and family! Make your lockdown as good as it can possibly be by taking part in our super weird guessing game.
To Conclude
Celebrate the end of lockdown (when we can meet) by spending quality time with you friends and family playing our new board games.
We hope you enjoy our Big Potato Range as much as we do and are excited to start playing games on zoom!
There's lots more Big Potato board games to choose from too! You can browse the full range of Big Potato Games right here:
Did you enjoy reading this blog post? If so, keep your eye out for our future blog posts coming your way and sign up for our newsletter below!